What's new?
Spring 2017:

The 4th Annual Ting Comics and Graphic Arts Festival
---


Friday, December 4th, 2015:

In Kind: Forest City Gallery's annual members show
Opening Reception: from 6 - 10 PM
Closing Day Reception: Tuesday, December 15th from 12:00- 5:00 PM
Forest City Gallery is pleased to present our Annual Members' Show and Sale. This Show and Sale acts as both an appreciation event to our Membership, as well as FCG's biggest fundraiser of the year. All works in this exhibition will be for sale for between $20 to $500. Give the gift of artwork for the holiday season - proceeds from artwork sales goes directly to local artists and aiding Forest City Gallery's operations.
For a second year Scotiabank will be matching the proceeds made from artwork sales at our Members' Show and Sale. When you purchase a piece of artwork at this show, Scotiabank will donate that amount back to the gallery! Last year over $12,000 was paid out to local artists and FCG. All of the money made from this matching program goes directly towards FCG's operations, and in turn FCG will continue supporting emerging artists and exhibiting contemporary fine arts.
Cash and cheque accepted. This year Gift Certificates are available for purchase at FCG.
forestcitygallery.com
Here's the FB page for the event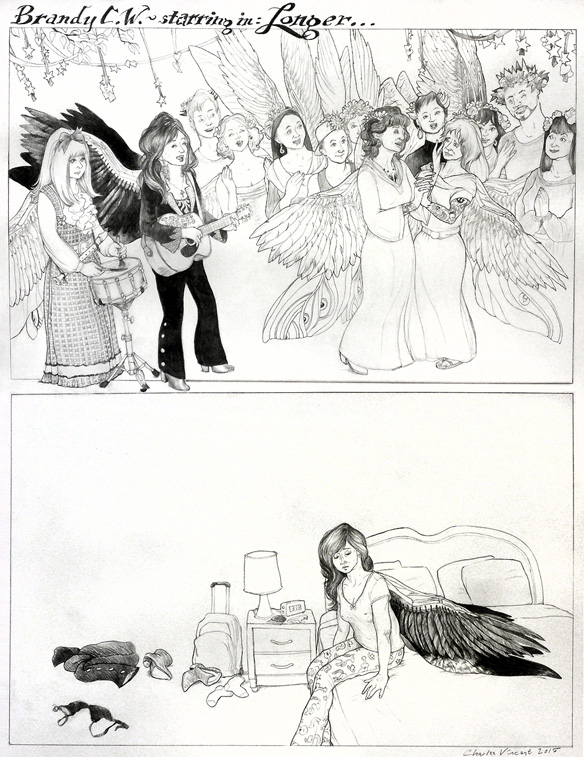 Brandy C. W. ~ starring in: Longer ... 24 x 18 " graphite on paper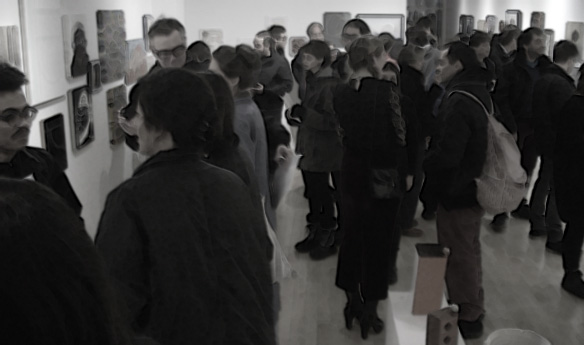 In Kind opening reception

---
Tuesday, November 10th, 2015:
I am participating in another edition of the pop-up show Elevation, at LAVISH Night Club in downtown London, Canada, 238 Dundas St.
For those who can't make it, the work can be purchased from the website after the one-night exhibition is over.
As well as two paintings, there will be a few proof copies of my new mini-zine "Angela's December", a short illustrated story featuring Brandy Cinnamon Wages
Presented by Elevation Arts Venue & LAVISH Night Club
Showcasing London artists in the newly available, inclusive arts venue. Free admission
Artists: Chelsey Mader, Tom Hilborn, Shane Wilcox, Nic Degroot, Homonculus, Tony Welch, Paula Mould, Chris Seaton, Jen Wilson, Chris Gosnell, Charles Vincent, Craig Greenwood, and more!
Elevation Arts Venue is a community group working with visual, performance, and music artists by providing and curating inclusive, multi-purpose venues.
Buy Group Art Show artwork online, book this space, and learn more: www.ElevationArtsVenue.com
In partnership with: LAVISH Night Club
---
Sunday, October 18, 2015:
I am happy to announce that I will be participating in The Forest City Comicon featuring Project Play.
I have been invited to be part of a panel called The History of Comics in London.
The panel is at 4 p.m. in Salon B., and is billed as an exploration of the undiscovered wealth of information about the history of comics, zines and comic conventions in London, Ontario.
Moderator: Dan Brown
Panelists: Bill Paul, A. Jaye Williams, Alison Williams, Jon Gilbert, and Charles Vincent.
A link to the Facebook page for the event is here.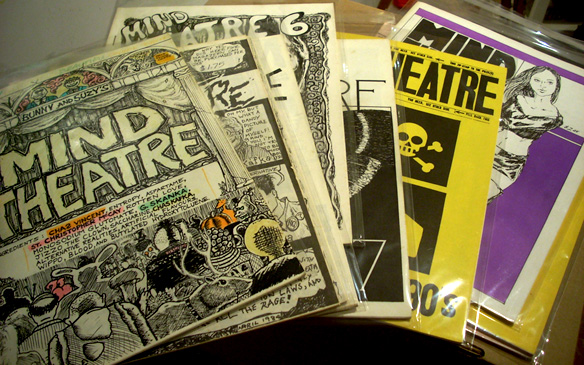 ---
Tuesday, September 8, 2015:

I have been invited to participate as Club Lavish and Elevation Arts Venue present the second of a series - Elevation Group Art Show. The show will feature fine art, street art, and everything in between, all by London, Canada artists. Free admission to everyone of every age starting 5:00pm, September 8th, 2015, at 238 Dundas St. in London, Canada.
My pieces included are Past Promises, below, and Drawing For a Question for You.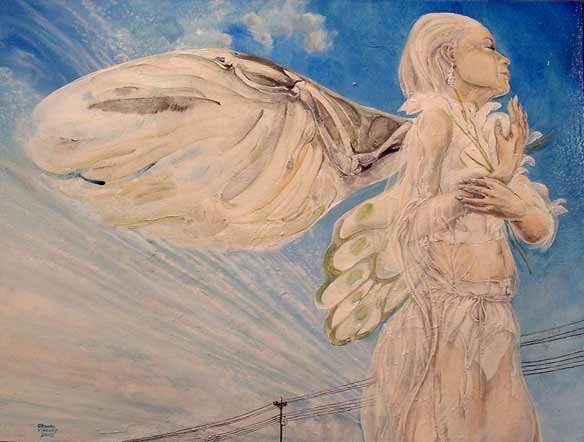 ---
Friday, November 28th, 2014:
Once again, some work featuring my main art character Brandy Cinnamon Wages will be making an appearance in the Forest City Gallery's Wish LIst: Members' Show and Sale, opening next Friday, November 28th, 2014from 6 - 10 PM. This bold and elegant watercolour/drawing, Brandy Cinnamon Wages Getting Ink From Lefty is one of them. All proceeds from sales of my art at the Member's Show and Sale will go to the gallery, and this year all exhibition proceeds are being matched by Scotiabank. Forest City Gallery is a great artist run centre, and an important part of the arts community in London, Ontario.
The show runs to the closing reception, Friday, December 12, 7 - 9 PM, but you may want to check in early, as in last year's exhibition, a drawing of Brandy was sold directly upon the opening.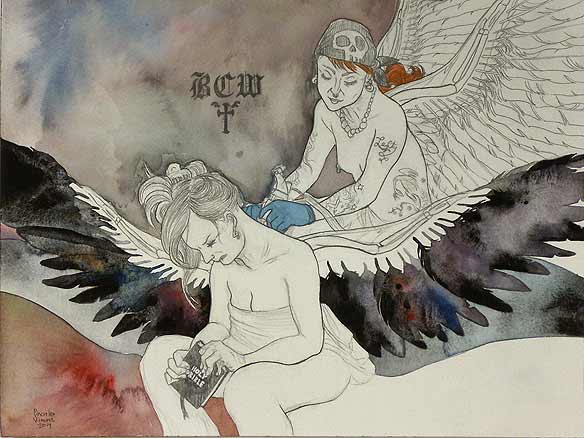 Charles Vincent - Brandy Cinnamon Wages Getting Ink From Lefty - Graphite and watercolour on paper (Arches) $150 unframed, all proceeds to Forest City Gallery
---
July 15 - August 16, 2014: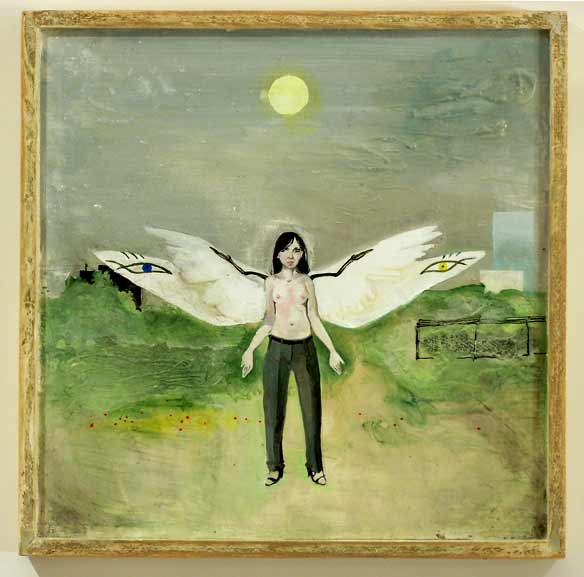 The 52nd Birthday - 12 x 12" - acrylic on board - is part of
The 2014 Square Foot Show at Westland Gallery in London ON
---
February 18 - March 8, 2014, opening reception Friday February 21: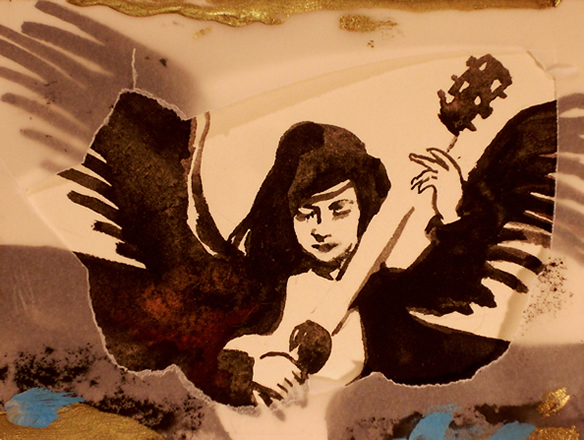 Playing Through (Brandy Cinnamon Wages) 3x4" watercolour on paper and acrylic on velum - is part of the 2014 Miniature Show at Westland Gallery in London ON.
Note: Playing Through (Brandy Cinnamon Wages) is now sold.
---
December 7, 2013:


Western University McIntosh Gallery has just published Graphic Underground: London 1977-1990. (London, Canada, that is.)
It is a history of regional punk graphics. Among its over 500 dynamic images by various creators are many examples of my early works, credited as Chaz Vincent, some of which go back to when I was 16 or 17 years old. The book was compiled by Brian Lambert, who curated the exhibition of the same name with Western U and The Forest City Gallery in 2012. I like that Brian imagines William Blake as the first 'zine publisher. This photo is my essay on offer, where I try to rationalize why I did this stuff.
You can find the book online here:
www.bookstore.uwo.ca/generalBooks.html

---
December, 2013: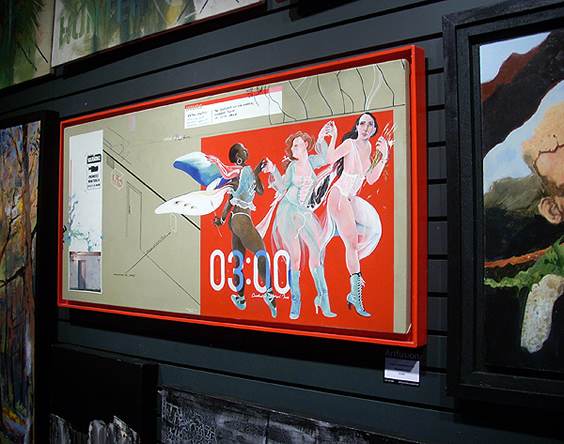 There are some works of mine on display at Artfusion Gallery in London Canada, at the Citiplaza, near the central library. Show here is Three Hours, just back in the gallery after the recent fun at the Artfusion 4th anniversary party. Patience is on display in a group of wintry works by talented local artists. The painting Victory is up as well, and they have other work available to view upon request.
www.facebook.com/artfusionca
---
July 19, 2013: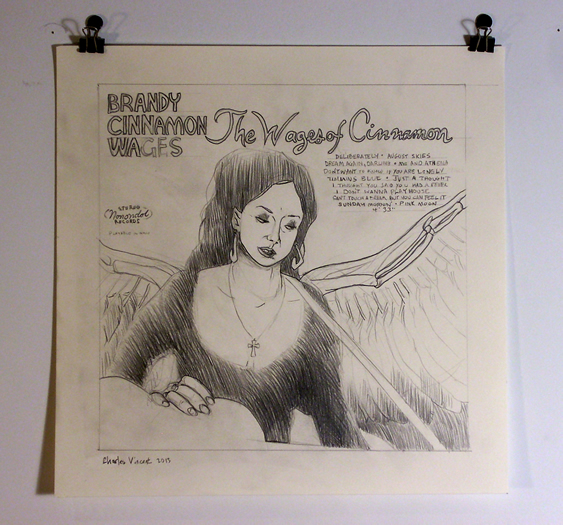 This lovely pencil-on-paper drawing of the sleeve of Brandy Cinnamon Wages' LP titled The Wages of Cinnamon will be on sale to benefit the The Forest City Gallery, at the their WIN WIN Members Show and Sale. The 11x11" drawing is $120 with all proceeds to FCG, and that price includes a WIN WIN bonus archival 8.5x 11" print of an interview, where Brandy discusses her country version of John Cage's classic 4'33", while she name checks The Beatles, Jesus, The Dixie Chicks, and The Cowardly Lion from The Wizard of Oz. Talk about a WIN WIN!
Note: The Wages of Cinnamon is now sold.
---
Saturday, April 27, 2013: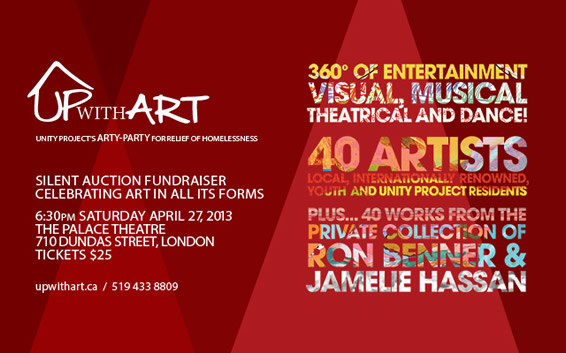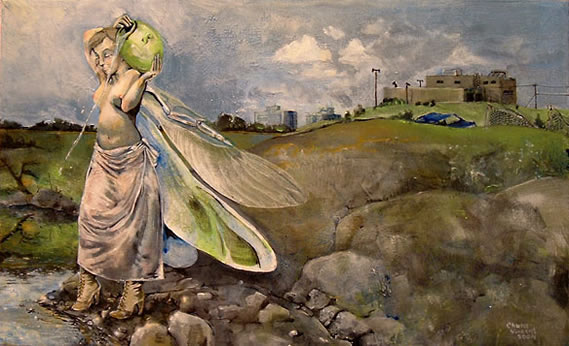 I am excited to have been invited by Unity Project to participate in the UPwithART arty-party for relief of homelessness in London, Canada. My work Aquaria will be available for bidding as part of the event. The invitation image above is linked for more details to attend!
Note: Aquaria is now sold.

---
Saturday, March 16:

How to tell a man a story. Yet another of my non-narrative pieces about narrative, above, will be at Artfusion 28. The event is at the Artfusion Gallery location in Citi Plaza in downtown London ON, with the exhibition continuing through the month.
Along with the painting Victory, described by Paul Kinsella in Scene Magazine thus: "... a sample of work involving a character with a mastectomy. Victory ... (modeled on the Greek sculpture Winged Victory of Samothrace) embodies beauty surviving the ravages of time."
Also present is one of the Fates, Lachesis, in a sketch of her in her role as a member of The String Trio.
---
March 9, 2013:
Charles Vincent will be participating in the panel at The 8th Annual Indie Media Fair in London ON, at The London Public Library, Central Branch.

INTERACTIVE EXPERT PANEL DISCUSSION
Hyper-Local Indie Media
Opportunities and Barriers to a Local Collaborative Model
1:00pm - 3:00pm

MODERATOR: Ryan Craven (Our Street/Londonfuse)
Savanah Sewell (379 Collective/Out of Sound Records)
Ashley Desjardine (CHRW)
Karen Schindler (Baseline Press)
Deanne Kondrat (379 Collective)
Kuba Czerniak (Zephyr Magazine)
Charles Vincent (Artist/Zine Creator)

---
February 12, 2013:
Brandy Cinnamon Wages live is part of the 8th Annual Juried Miniature Show at The Art Exchange in London, Ontario. February 12 to March 2, 2013.
---
December 1, 2012: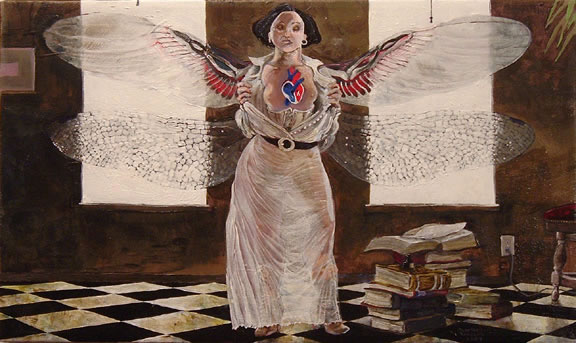 The Heart, The Pen, and Page -- and other works by Charles Vincent will be at The Artfusion 3 Year Anniversary on December 1, 2012, at Burlesque Night Club in London ON, with the work moving to the gallery later. There is still lots of Charles Vincent work at the Artfusion Gallery in Citi Plaza in London ON.
Read on Facebook about the creation of this work here. It has been a featured work on the amazing blog Phantasmaphile.
Find out more about the Artfusion anniversary party here and in the lfpress.com article.

---
Still time to see Graphic Underground:

Back cover of Mind Theatre no. 6 fall 1985 (detail) Chaz (Charles) Vincent -- click for full image.

At Graphic Underground with zine editions and some framed originals. Photo by Andrea Thompson
October 26 - December 15, 2012:
Graphic Underground London 1977 - 1990 -- a group exhibition and publication of London Canada's zine, comix, and punk rock poster art from 1977 to 1990. Curated by Brian Lambert and presented by The McIntosh Gallery at Western University, exhibited at Forest City Gallery in London, Canada. This is a group retrospective, held in conjunction with exhibitions of work by Jason McLean, Raymond Pettibon, and Adrian Norvid, and also a live concert. For more information and images, visit the site here.
Thanks to Western McIntosh Gallery, Compudata Inc., apk live, CHRW 94.9 FM, WhatWave Magazine, Forest City Gallery, London Heritage Council, Ontario Arts Council, and the Canada Council for the Arts.

---
October 19, 2012:
Power Border -- work for auction at Palettes of Progress gala benefit for Artfusion.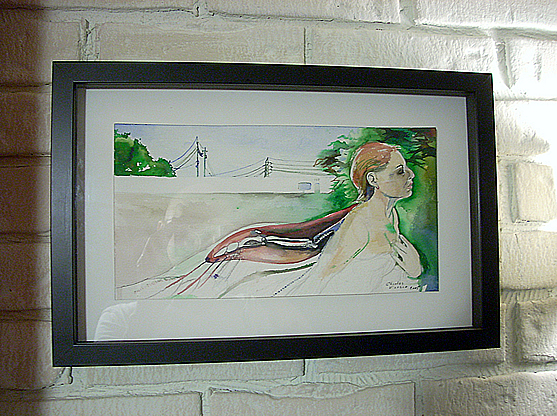 ---
September 29, 2012:
Opening of Artfusion 26 group show
Continues through October at Artfusion Gallery in Citi Plaza London, Canada

Artfusion visitors view Charles Vincent works at the galley in Citi Plaza.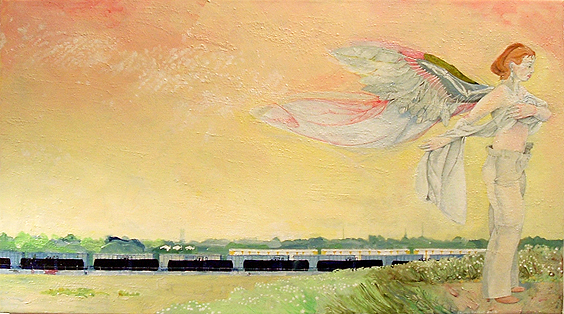 Among the works: The Dawn Shall Be Good (above), Deep Green Interior (it is better to know the harsh poems), and The Gemini Senses

---
August 25, 2012 - September, 2012:
Artfusion 25 group show
Three works: A Canadian Infinity, White Mare, Winged Rider, and The Evolution of Angelic Species
Opening show at APK Live in London, Canada and continues through September at Artfusion Gallery in Citi Plaza London, Canada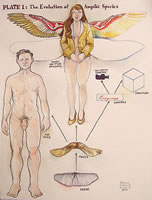 ---
June 23, 2012:
Artfusion 24 group show
Three works: Sixty Nine Dollar Security, Noon Titania, and CFNM
Opening show at APK Live and continues through July at Artfusion Gallery in Citi Plaza London, Canada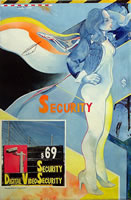 ---
May 5, 2012:
Artfusion 23 group show
One work: The Light Standard
Opens at APK Live and continues through June at Artfusion Gallery in Citi Plaza, London, Canada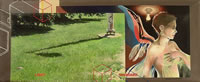 ---
February 2012:
Imagine Nonondol lifestyles magazine.
Download your copy in Free Art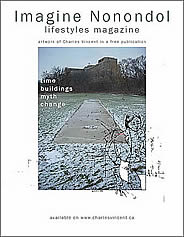 ---
Later in 2012:
- Also producing a new zine: Nonondol Landscape.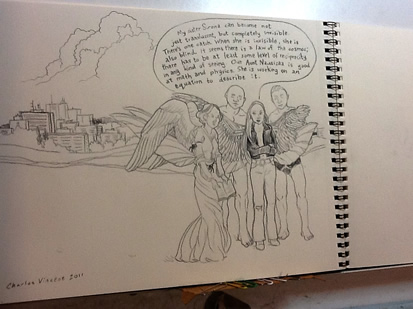 Sirona's Sister from the forthcoming Nonondol Landscape.
She says: "My sister Sirona can become not just translucent, but completely invisible. There's one catch. When she is invisible, she is also blind. It seems there is a law of the cosmos; there has to be at least some level of reciprocity in any kind of seeing. Our Aunt Nausicaa is good at math and physics. She is working on an equation to describe it."
---
June 18, 2011:
My piece "A Gaze Returned" was a part of London Ontario's Nuit Blanche for 2011, the night of Saturday, June 18th.
Nuit Blanche was an exciting night of interactive art. Much of Nuit Blanche put the viewer in the picture. By looking at A Gaze Returned you actually become a part of it on the video screen.
In her book The Real Real Thing: The Model in the Mirror of Art, from University of Chicago Press, Wendy Steiner ponders the eyes-closed watcher/model in A Gaze Returned: "Part electronics fair presenter, part Las Vegas showgirl, part bird-airplane-butterfly-pterodactyl... Vincent's model allows us to see us to see ourselves without being looked at by her, but at the same time suggests just the opposite state of affairs: the closed-circuit surveillance of a police state... Under the circumstances, his muse's serene composure is uncanny, disquieting."
London Free Press article by Kathy Rumleski:
Artist's Gaze Bound to Engage

Nuit Blanche:
http://www.nuitblanchelondon.ca/
The Real Real Thing:
(link)
Thanks to The Met:
http://www.metropolitanmarket.ca/
Thanks also to London Fringe, Echidna Solutions Corp., London Canada, Downtown London, Ontario Arts Council, Eyelook Media Inc., Motif Print Group Inc.
---
February 8 to May 22, 2011:
Two Charles Vincent drawings from 1988 and '89 in
Paterson Ewen: inspiration and/et influence
The Art Gallery of Ontario
(external link here)
---
2010 Nov: added to CV:

Painting reproduced in Art Stance: A Muse's Tale - Shari Quimbo - SPACE Beyond Luxury magazine.

... and a talk at Museum London SMArts unconference:
How I Accidentally Painted the Changing Media Landscape:
"I did not set out to document the changes happening in the media, but that story has become a part of my body of work."
---
2010 Oct: Video sculpture piece A Gaze Returned reproduced and discussed in the book The Real Real Thing by Wendy Steiner, published by The University of Chicago Press (external link)
---
2010 June 19: N:ever - Attributions to a Strange Cast
in Action and Area Projects
---
Charles Vincent:
| CV | Statement | Articles | Technical | Contact | Links